2020 Fact Sheet – Petite Sirah "Family Vineyards" Dry Creek Valley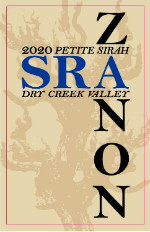 2020 Petite Sirah "Family Vineyards"
Dry Creek Valley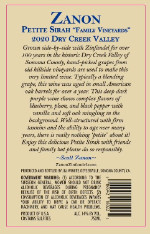 -Vineyard Sources-
The Petite Sirah vineyards are located on the hillsides in the scenic and bucolic setting of the historic Dry Creek Valley. It has been grown side-by-side with Zinfandel in the Dry Creek Valley for over 100 years.
-Technical Information-
Appellation: Dry Creek Valley, Sonoma County, CA
Aging: 20 months in American Oak, 30% new
Alcohol: 14.0%
-Winemaking-
The 2020 growing season was very good with a warm summer temperatures that allowed slow ripening and development of the grapes color, flavor, and tannins. Because of some heat spikes the grapes were picked in early September and it resulted in a beautifully structured and aromatic wine. Temperature controlled fermentation occurred in stainless steel tanks with daily pumpovers to extract color and flavor from the skins.
-Tasting Notes-
Zanon Petite Sirah is a delicious version of a distinctive varietal grape. This deep dark purple full-bodied wine shows aromas of blueberries and plum. Complex flavors of blueberry, plum, and black pepper with vanilla and soft oak mingle in the background. Well-structured with firm tannins and the ability to age over many years, there is really nothing 'petite' about it! It is 100% Petite Sirah.
Download a PDF of the 2020 Petite Sirah "Family Vineyards" Dry Creek Valley