Zanon Wines Testimonials
"Hometown boy makes good on his goal to bring Dry Creek and Russian River Valley appellation wines from Sonoma to Ohio. All of the Zanon wines are varietally correct and represent great values in California wine. I can comfortably recommend these to all my customers."
-Gary Vara, CSW, CSS
 Market District Wine Buyer
---
"The Zanon wines, led by the Zinfandel, continue to excite! They are a great expression of varietal character, show sensitive blending, and Scott's real appreciation of the grape and its essential quality. These are a great effort."
-John F. Keegan, CWE 
---
"I discovered Zanon Old Vine Zinfandel DCV several years ago at a wine tasting event and have been enjoying it consistently ever since. More recently, I have added his Petite Sirah and Sangiovese Dry Creek Valley to my "go to" wines. His addition of a delicious Sauvignon Blanc Dry Creek Valley and a Pinot Noir from the Russian River Valley really completes the portfolio. When combining the high quality Sonoma County grapes and easy drinkability of these wines, with such a great value price and easy availability across central Ohio restaurants and wine shops, I will continue enjoying Zanon's wines for many years to come."
-Mark Berens, Consumer
---
"There is room on any wine list for Zanon wines. They pair well with our entrees at Double Eagle Club and with their price point can be served by the glass or by the bottle. Our members have really enjoyed the Zanon wines and we love to tell the story every time we pour."
-Todd Voss
COO, Double Eagle Golf Club
---
"Zanon is always a great bet."
-Marc Bona, Cleveland.com
About
Zanon Wines is the creation and vision of Columbus, Ohio resident Scott Zanon, who spent 16 years in the wine industry. After graduating from The Ohio State University in 1983 with a BS in Agriculture (Agronomy and Horticulture), Scott began by working in the retail side of the business for two years. The first year was spent at Globetrotter Wine & Cheese and the second with Beer and Wine Beverage Center where he was the manager. Both were located in Columbus.
Scott has been featured in business publications a number of times, most recently in Columbus CEO magazine (April, 2019). Read the article here…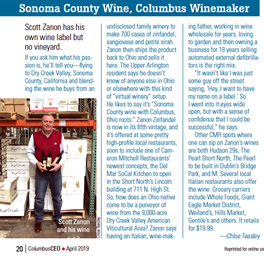 Where To Find
Zanon Wines are proudly distributed in Ohio by Vintage Wine Distributors. They have 3 warehouses:
6555 Davis Industrial Parkway

Solon, OH 44139

440-248-1750

800-SEL-Wine
9422 Meridian Way

West Chester Twp., OH 45069

513-443-4300

800-SEL-Wine
2277 Westbrooke Drive

Columbus, OH 43228

614-876-2580

800-686-7436

Zanon Wines are also now proudly distributed in Virginia, Maryland, and the District of Columbia by Kysela Pere et Fils. Below is their warehouse contact and address information.
331 Victory Road
Winchester, VA 22602
540-722-9228
The wines are available in selected wine shops, grocery stores, restaurants, and clubs across these states. If you cannot locate it, ask your favorite purveyor to get it for you.