2019 Fact Sheet – Zanon Chardonnay Dry Creek Valley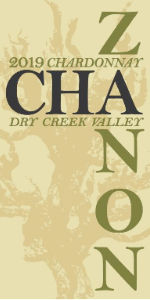 2019 Zanon Chardonnay
Dry Creek Valley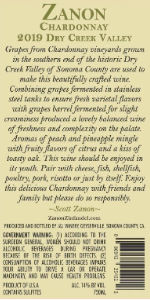 -Vineyard Sources-
The vineyards for this fruit are located at the southern end of the historic Dry Creek Valley. This pedigreed region has long been known for great vineyards and wines. The vineyards benefit from the close proximity to the cool-climate Russian River Valley. This microclimate and unique combination of alluvial soils, sun, and fog offer ideal conditions to develop fruit exhibiting exceptional fruit flavors, balance, and acidity.
-Technical Information-
Appellation: Dry Creek Valley, Sonoma County, CA
Aging: 6 months in American oak combined the 90% stainless steel

Alcohol: 13.5%

-Winemaking-
Harvested in mid-September, 90% of the juice went to stainless steel tanks for fermentation, showcasing the fresh fruity flavors. The remaining balance was barrel fermented separately for 6 months adding some creaminess and complexity before they were combined. What you have is a very drinkable rounded wine with luscious fruit and balanced acidity.
-Tasting Notes-
Zanon Chardonnay is a clean and refreshing blend of the combination of stainless steel and barrel fermented wines. A beautiful straw yellow color, its aromas of honey and pineapple mingle with the fruity flavors of citrus and a kiss of toasty vanilla oak. Enjoy this wine upon release or within 1-3 years as no aging is required.
Download a PDF of the 2019 Zanon Chardonnay Dry Creek Valley