2018 Fact Sheet – Sangiovese Alto Vineyards Dry Creek Valley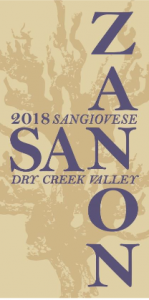 2018 Zanon Sangiovese "Alto Vineyards" Dry Creek Valley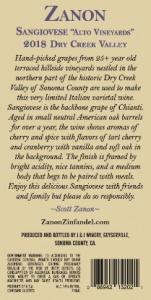 -Vineyard Sources-
The Sangiovese vineyards are located on the hillsides in the scenic and bucolic setting of the historic Dry Creek Valley. The grapes are hand-picked from 25+ year old steep hillside vineyards where the vines thrive.
-Technical Information-
Appellation: Dry Creek Valley, Sonoma County, CA
Aging: 10 months in neutral American Oak
Alcohol: 14.0%
-Winemaking-
The 2018 growing season was blessed with warm weather and mild temperatures allowing the grapes to reach full ripeness with balanced acids. Harvested the third week of September, the grapes exhibited exceptional color, flavor, and tannins. The juice was cold soaked for 24 hours and then temperature controlled fermented for 7 days in stainless steel tanks with daily pumpovers to extract color and flavor from the skins. The wine was then aged in small neutral American oak barrels for 10 months.
-Tasting Notes-
Zanon Sangiovese is a delicious version of the backbone grape of Chianti. The wine shows aromas of cherry and spice with flavors of tart cherry and cranberry with vanilla and soft oak in the background. The finish is framed by bright acidity, nice tannins, and a medium body that begs to be paired with meals. 100% Sangiovese, this wine can age but is ready to drink right now.
Download a PDF of the 2018 Zanon Sangiovese "Alto Vineyards" Dry Creek Valley